Welcome to the new PVWatts®
This is Version 6 of NREL's popular online photovoltaic system calculator.
---
New Solar Resource Data
PVWatts® Version 6 uses the newest data from the NREL National Solar Radiation Database (NSRDB). The new NSRDB data covers the Americas including Hawaii between about 21 degrees South latitude (about 300 km North of Sao Paolo, Brazil) to about 60 degrees North (about 200 km south of Anchorage, Alaska), and the Indian subcontinent and parts of Central Asia as shown in this map: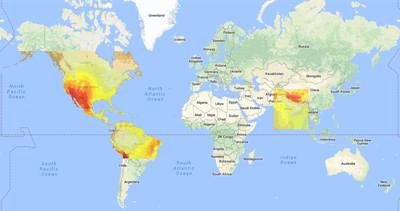 You can still use solar resource data available in the older version of PVWatts® by choosing a legacy data option, but we recommend using the new data because of its higher quality, better spatial resolution so you can use data for the exact location of your project, and because it covers a larger part of the world. See Help for more about the solar resource data.
Performance Improvements
Behind the scenes, we have migrated PVWatts® to the cloud. While you will not see the effect of this change, it will minimize website down times and give us more flexibility to add computing resources as more people use the site.
Other Enhancements
Change the distance in miles shown on the Resource Data and Results pages to be the distance between the system location and the center of the NSRDB grid cell. In older versions, the distance was between the location and legacy weather station.
Update the solar resource map to better reflect the latest solar resource data sources.
Change default location to the NREL campus in Colorado from Latitude 0° and Longitude 0° in the Atlantic Ocean.
Update Tilt to automatically change when you choose an array type. For fixed arrays, the default tilt angle is 0° and for tracking arrays, it is 20°. As always, you can type a value for Tilt to override the default value.
Change the default value of DC to AC Size Ratio (On the System Info page under "Advanced Parameters") from 1.1 to 1.2 to reflect current trends in the photovoltaic market.
Update the labels for economics inputs on the System Info page and results on the Results page to better reflect how the model works: The value of electricity generated by the system is based on a simple, flat electricity rate, not a cash flow model.
Remove India-specific features and documentation. Now that weather data for India and many other countries is available from the NREL NSRDB, we can use the same version of PVWatts® for any location in the world.
Review and revise Help documentation to reflect the latest updates and enhancements.
Update supporting supporting libraries (e.g. Google maps).
Refactor data management system to correct minor bugs and make maintenance easier in the future.
Add aSSL to comply with federal regulations.
---
We hope you enjoy using this latest version of PVWatts®!
The NREL PVWatts® Team.